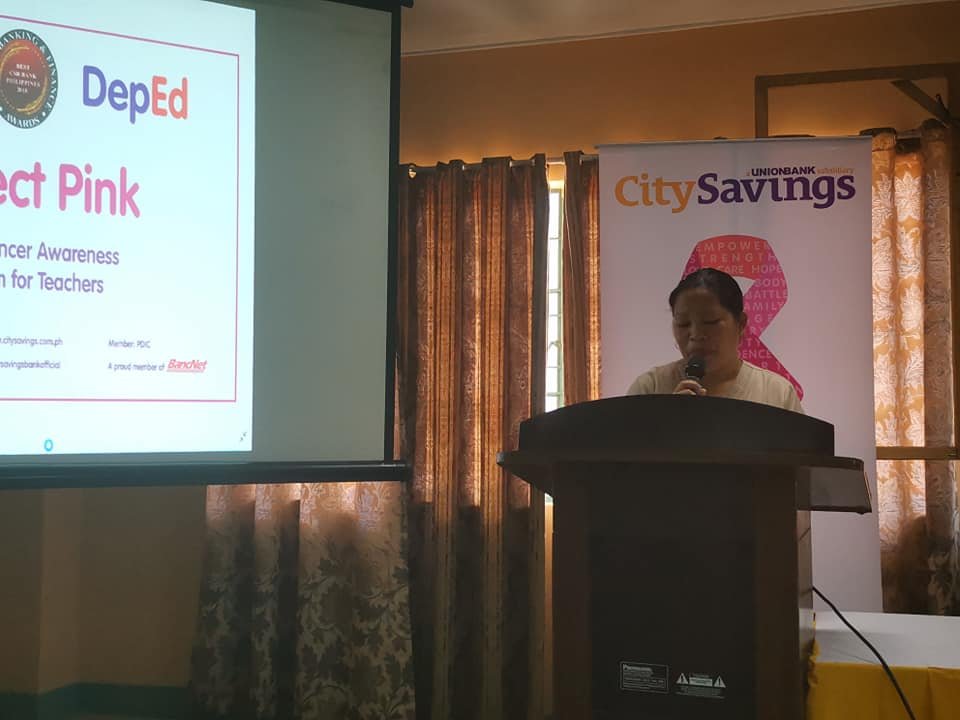 72648609_1903770853101728_8171073537159725056_n
73497965_1903770813101732_5425014912889913344_n
74160913_1903770686435078_7927727768274468864_n
74840224_1903771016435045_7124424568726355968_n
75341265_1903770733101740_5411697589399584768_n
75380511_1903770959768384_1031935020362629120_n
75543807_1903770906435056_7262905154846851072_n
76193021_1903770766435070_8938609455952560128_n
Earlier today, the City Savings Bank, in partnership with our Division, conducted the Project Pink: Breast Cancer Awareness Program for Teaching and non-teaching employees.
The activity was graced by the former Head of the Health & Nutrition Unit and Division Office Medical Officer Dra. Consolacion Santiago Ruflo as the Resource Speaker. Also present were SDS Peter T. Escobarte, Jr. and the SGOD Chief, Dr. Alfredo M. Bayon. 60 participants from Southern Leyte Division and Maasin City division attended the program.
Headed by CSB's Regional Business Head, Adrian Ruiz and Sogod Branch Head Lucky Louise D. Abillar, Project Pink is one of the bank's CSR interventions.
On November 6, a seminar on Personal Financial Management Program will be conducted by the CSB in partnership with the Office through the Social Mobilization and Networking Unit.